Merlyn Vandervort II, CR, CGR; Founder and President of Metro Renovators & Construction Services, Inc, began his construction business in 1989; when he first founded Metro Renovators Inc in Kansas City Missouri. A carpenter by trade, Merlyn had been managing a construction company in Kansas City that specialized in disaster restoration for three years, when he decided to pursue his own endeavors and start his own business. With a couple of thousand dollars he had managed to save, a pickup truck and a box of tools; Merlyn set out to make his mark in the construction industry.
Metro Renovators Inc. began in 1989 in Kansas City Missouri, in a small office in the back of Merlyn's garage, and within the first year the business had grown to the point that it was able to purchase, renovate, and relocate to a new office building. Merlyn's primary focus of construction managment had always been in property renovation and disaster restoration; which made this area of expertise a natural fit for his new company to specialize in.
Focusing primarily on "Insurance Restoration" which is most generally related to repairing buildings that had been damaged by; fire, flood, tornado's, hurricanes, and earth quakes; Metro Renovators quickly grew to be one of the largest restoration contractors in the mid-west. They quickly outgrew the office they were in. To accommodate their growth they built a new twenty thousand square foot office and warehouse facility in Lee's Summit, and subsequently opened up another office in Springfield Missouri.
As a Renovation contractor, Metro Renovators has rebuilt hundreds of projects after they had been destroyed by; fire, flood, and natural disasters. In 1993 a horrific flood struck northern Missouri, leaving many small communities, and highways completely submerged under water; Pattonsburg School suffered catastrophic damages, and Metro Renovators was called in to completely restore all the facilities. When the school gymnasium in Garnett Kansas was severely damaged by Fire in the summer of 1995, Metro Renovators was immediately called in to ensure that the building was rebuilt before school re-opened for the school year. Memorial weekend, 1997 a tornado ripped thru the subdivision of Rain Tree Lake in Lee's Summit Missouri; and Insurance companies turned to the expertise of Metro Renovators to re-build numerous homes throughout the subdivision. The home of Mr. & Mrs. Roberson in Lee's Summit is a prime example of Metro Renovators disaster restoration services; their home was ripped in half by a micro burst causing over half a million dollars in damage; when the house was rebuilt, Metro Renovators was awarded the best project of the year by the Home Builders Association.
More . . .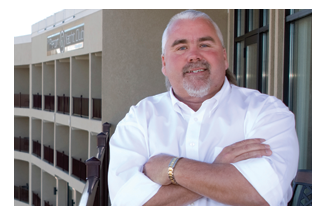 It didn't take long for the largest restoration contractor in the country to take notice of Merlyn Vandervort and his growing restoration company; in 1998 Metro Renovators was acquired by Inrecon LLC (a division of MASCO), which was subsequently acquired by Belfor USA. Part of the purchase agreement was that Merlyn would agree to accept a position as the companies Regional Vice President, where he would be responsible for multiple offices, and the management of large catastrophic loss sites around the country.
In 2002 after fulfilling a four year contract, Merlyn declined a lucrative offer to continue his career path with Inrecon/Belfor; not that they weren't a great company with unlimited opportunities, but rather Merlyn had his mind set on settling down in Central Missouri. Merlyn has nothing but great respect for the Belfor team. After selling his company in 1998, Merlyn had purchased some waterfront businesses on the Lake of the Ozarks and was anxious to focus his efforts on developing that business. Merlyn bought up some twenty properties, including existing businesses, and several houses, and tore all of them down to make way for his new Development project; the Horny Toad Entertainment Complex, and the Resort & Yacht Club @ Toad Cove; one of the finest resort destination properties in the Midwest.
With a true passion for building, Merlyn wasn't able to stay out of the construction business for very long and quickly started a new Design Build construction company called; Millennium Restoration & Construction Services, Inc/Design Build. Due to a non-compete agreement with Inrecon/Belfor, Merlyn was precluded from doing any type of insurance related restoration work for a period of time, or any work in the KC area; however custom home building was not included as a part of that non-compete agreement, and the Lake of the Ozarks was just far enough away; as such Merlyn initially focused his efforts on specializing in luxury home building at the Lake of the Ozarks.
Starting a new construction company in a new market, and specializing in new home building as opposed to restoration, which had always been Merlyn's primary area of construction expertise, proved to be somewhat of a challenge at first; the Lake of the Ozarks market was already saturated with builders, and what this new company really needed was a new project in the lake area to showcase their quality workmanship. Merlyn jumped in head first, and full force; the first new construction project at the Lake would be a new office facility on Bagnell Dam Blvd. Without any hesitation as to the certainty of success; a beautiful new office building was built before they even sold their first job!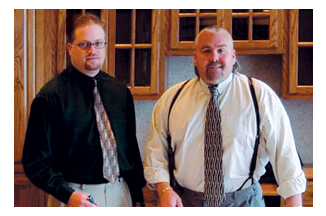 With Merlyn having to focus a good part of his attention on growing his other businesses, he needed a good second in command to oversee operations, and he had just the right guy for the job! A few years earlier, Merlyn had met a young Architect named Larry Powell; Larry was very talented, and very ambitious; this was the perfect opportunity for him to expand his wings, take advantage of a great opportunity, and get in on the ground floor. As the companies new Vice President, Larry was eager to put his skills as an Architect to work for the company.
What was certain to be a long and prosperous career for Larry Powell, as the companies new Vice President, unfortunately ended with a tragic automobile accident that took his life. This was a tragedy for sure, and was a major setback for the company that he was so instrumental in helping start; Larry is credited with the initial designs of some of the finest homes at the Lake of the Ozarks, and the Tri County YMCA facility. As fate would have it, the day after Larry's passing, Merlyn received an unsolicited phone call from his old friend Doug Ross; Doug had previously worked for Merlyn as the General Manager of Metro Renovators in Kansas City. A few weeks later, Doug relocated to the Lake area, and assisted this new company with recovering from their tragic loss. In addition to Doug's efforts; Justin Generally, the son of one of Merlyn's closest friends, had just started working with Larry and Merlyn as an up and coming designer. Rocky Corpe joined the Design Build team a few years later, and quickly rose to the top of the management ladder.
When the company first got started, they had yet to build any new homes in the Lake market, and had made the decision to focus on building very high end homes; but quickly deducted that no one would give them the opportunity to build that magnitude of a home, unless and until they had some history in the community, and some product in the area that would highlight their abilities to build such a high caliber project. Never being accused of doing anything small, Merlyn purchased four beautiful waterfront lots in the Lakes most exclusive subdivision, then had the four lots re-divided into three estate size lots, and began building three multi-million dollar, luxury mansions all side by side. Everyone in the community thought Merlyn had lost his marbles; no builder had ever even built a one million dollar plus "spec" home at the lake, let alone three all at once! That risky move, turned out to be a huge home run; Merlyn built one of the houses for himself, and the other two were both under contract long before they were even completed.
With a firm standing as a premier luxury home builder, high-end remodeling and additions were a natural extension of the company's talents, and services. Vandervort's background as a restoration contractor, gave him a unique perspective on remodeling; when assessing a property that has been significantly damaged or destroyed by a fire, or by mother nature, you have to be able to visualize precisely how the property looked prior to the loss, and usually without the benefit of any blue prints; and then determine how to reconstruct it to its pre-loss condition, plus be able to make suggestions that will improve or modernize a building, and enhance the value of the property.
The Design Build team's key to quality remodeling projects is their ability to study a home or building, and visualize how it is supposed to be, rather than how it actually is, and then figure out what it will take to make that visualization a reality. The same rule holds true when updating or modernizing an older building; visualize how that particular building, on that particular site, would be built today, with modern technology and design. Historic preservation requires sort of a reverse technology, with a critical eye towards detail in materials and craftsmanship of a particular era, and geographic location. The end product of any remodeling addition should never look like an addition; rather it should look as if the addition was always a part of the original design. If you would ask any one of their satisfied remodeling project customers, what it is that makes this company, so unique; it's their ability to visualize how a project is supposed to look, and then be able to make it look exactly that way when the project is completed.
This Renovation & Design Build Company has had the privilege of completing numerous commercial and residential remodeling projects, and in nearly every instance, the end product was far beyond the initial design concept of the property owner. "we don't want to do a project unless we have the flexibility to think out of the box, we want to get a good feel for what our customers are looking for, and then apply our construction experience, and design capabilities, to deliver a quality project that exceeds their expectations" expresses Vandervort.
One of the first remodeling projects that was undertook when they launched their new business at the lake of the Ozarks, was to remodel the home of Randy and Jane Kelley; Randy owns one of the largest boat dealerships at the Lake of the Ozarks, and his wife Jane, is consistently one of the top realtors in the community. Both Randy and Jane are very successful professionals, with a distinct eye for quality. The outstanding performance on the Kelley's personal home, earned them a much larger remodeling and addition project a few years later when they completely remodeled, and doubled the size of "Kelley's Port Marina".
One particular project that kind of "sums up" a quality remodeling project is the home of Hank Parasoto. Hank first asked Merlyn Vandervort to come by his house and give him some suggestions on what he could do to sort of spruce up the house, with the intent of selling it. Hank had already had several other opinions from various professionals; and his thoughts, and their consensus was more along the lines of some new paint, floor covering, and possibly some shutters; but he did ask Merlyn to "think out of the box", and that sort of thinking was exactly what he got! Merlyn's suggestion was drastic to say the least; "you need to completely tear out the entire third floor loft to increase the height of your great room ceilings, tear out your main stair case to open up the floor plan, completely re-design your entry, increase the size of your garage, completely re-side and re-roof your home, remodel every inch of your house inside and out, and a swimming pool would be a nice finishing touch". Hank didn't quite know what to think about Merlyn's suggestions, as they were definitely way over the top, but the more he thought about it, he determined that was exactly what the house needed. The Design Build team went to work, and the finished product far surpassed Hank's expectations!
The resume of quality remodeling projects is indeed extensive; every form of remodeling project one could imagine; restaurants, hotels, condominium projects, office buildings, retail shops; everything from; complete interior and exterior renovations of both commercial and residential projects, to lavish kitchens and bathroom suites, and multi level room additions.
Not satisfied with just building their reputation as the finest home builder, and remodeler in their market, the company was eager to establish itself as a leading commercial general contractor as well. The lake area YMCA organization had been in a fundraising mode to raise the capital needed to build a new facility for the last several years, when Merlyn Vandervort was asked to serve on the YMCA board of directors. Subsequent to his commitment on that board, he had the opportunity to review the building plans that had already been drawn up for the new YMCA facility. Merlyn was far less than enthusiastic about the quality of the design, and could only describe the original design as that of an old convent. The original design had been completed the previous year, and approved by a previous board. The new YMCA board all agreed that the design was less than desirable. Unfortunately the YMCA had already invested seventy five thousand dollars in the plan. Merlyn quickly recognized that this could be the perfect commercial project for his company to display their quality and innovative design build services, plus do something great for the community all at the same time! Merlyn told the rest of the board members that he would come up with a completely new preliminary design with renderings, and present it to them at their next board meeting, and if the board liked the new plan better than the one they already had, that they would not only provide all of the Architectural and Engineering services for the same price as the design firm they had already contracted, but they would also donate to the YMCA the seventy five thousand dollars they had already spent. It was a no loose proposition for the board, and the following month a totally new design was presented to the board, and they all loved it! Not only was Merlyn's new Design Build Company awarded the design contract, they were also awarded the contract to build the entire new facility. The end result was the completion of one of the finest YMCA facilities in the country.
As a Home Builder, they have designed and built a multitude of quality homes including some of the finest luxury homes in the country. As a Remodeling Contractor, this Design Build team has modernized, updated, and beautified countless properties to their fullest potential. As a Restoration Contractor, Metro Renovators has restored properties from their worst possible condition, to their finest condition. As a Commercial General Contractor they have designed and built everything from office buildings, convenience stores, and restaurants, to community centers and super structure- multi level hotels.
In 2011 Merlyn launched a new and rebranded company, utilizing the original "Metro Renovators" name; "Metro Renovators & Construction Services, Inc."; as it expanded its service area back into the greater Kansas City metropolitan area, with an office in Lee's Summit Missouri. Utilizing the "Metro Renovators" name that founded the company more than two decades earlier and combining it with the Design Build construction services which have proved to be such a success. The company will continue servicing the Lake of the Ozarks, but it is only natural that the company would return to the area it originated. Merlyn had a non-compete agreement with Inrecon/Belfor after he had sold Metro Renovators, which would have prevented him from conducting work in the Kansas City area for a period of time, or using the Metro name; however that time has long passed.
Metro Renovators & Construction Services, Inc; is a continuation of a concept that started out as a small company in the back of a garage some twenty plus years ago, and went on to become a part of an even bigger organization, and has sense reincarnated itself and evolved into the company that it is today. Metro Renovators & Construction Services, Inc, continues the same driving force, with the same fundamental business philosophies that it had over two decades ago; that if you build a company around good service, and unparalleled quality; you have a formula for success. Do what you say you are going to do, be the best in your industry, and make quality and innovation a priority; those were the guiding principals' then, and they continue today. (www.metrorenovators.com)