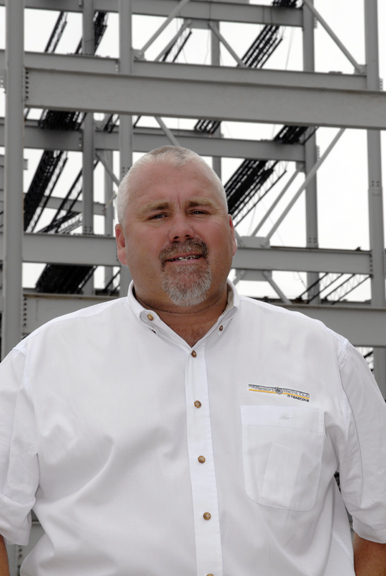 About the Founder, & CEO
Merlyn Vandervort, CR, CGR
President/CEO
Metro Renovators & Construction Services, Inc.
Merlyn Vandervort, founder and President of Metro Renovators & Construction Services, incorporated; has been building, designing, remodeling, and renovating quality projects for over twenty five years.  In the 1980's and 1990's, Vandervort established himself as an industry leader in rebuilding properties that had been damaged or destroyed by; fire, flood, and natural disasters. As a Design Build Contractor and Developer, Vandervort's long resume of projects includes everything from multi-million dollar mansions, to community centers, and five star quality resort hotels.
In 1997, Vandervort's Kansas City Missouri based Construction Company; "Metro Renovators, Inc.", as well as his Springfield location; were acquired by the largest restoration company in the country. After fulfilling a four year contract as the Regional Vice President of Belfor USA; Vandervort relocated to the Lake of the Ozarks, and launched Millennium Restoration & Construction Services, Inc. Millennium specialized in the Design Build, of "high end", residential and commercial construction, and remodeling.
In 2010, Vandervort expanded his Lake of the Ozarks construction business, back to Kansas City, and rebranded it; "Metro Renovators & Construction Services, Inc.". Vandervort's non-compete with I Belfor had expired, which allowed him to once again pursue business in the Kansas City market. Vandervort was able to regain the "Metro Renovators" name, and combined it with the "Construction Services" part of the Millennium name. This new and expanded company provided Vandervort the opportunity to provide the best of all worlds; combining the renovation services he began his business with in Kansas City, combined with the quality "Construction Services" & Design Build, he had well established with Millennium at the Lake of the Ozarks.
A carpenter by trade; Vandervort's educational background in the construction industry is reflective of his extensive experience; beginning with construction technical school and a carpenter's apprenticeship, to a business background from the University of Central Missouri. Vandervort then attained numerous accreditations; Certified Graduate Remodeler (CGR- Builders Institute), Certified Master Builder (CMB-Home Builders Assn.), Certified Lead and Asbestos Abatement Contractor (University of Kansas), Certified Restorer (CR-National Institute of Disaster Restoration).
Vandervort and his construction businesses have received numerous awards for quality and excellence. He has authored numerous trade articles, and; is a contributing author to RS Means; the cost estimating construction manual that is relied on virtually throughout the construction industry.  He has chaired numerous industry committees' and served on several boards; including the Home Builders Association.
"Our Goal is to design the best, and build the best, Period! Our designs are "out of the box", and our construction quality is "top shelf". We build every project as if we were building it for ourselves, and we are very picky customers."
-Merlyn Vandervort